In the Hero/Heroine's Journey the Return is a time of integration on many levels. Jon Wiley offers a new perspective as his Return proves to be the most difficult station of his amazing Journey. The status quo of the Home he left to answer the Call is forever changed. I'm grateful he is willing to share his experience and what he learned with us all. May our understanding deepen and we come to our Returns better prepared.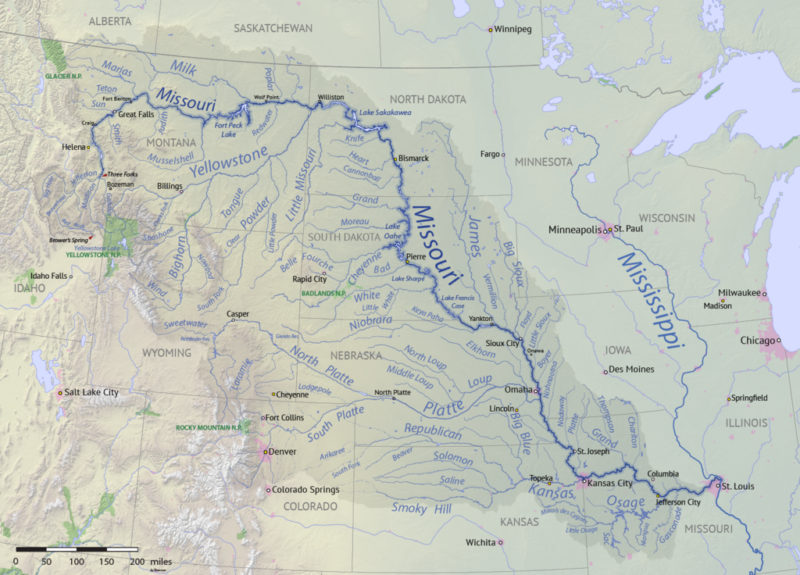 It was chilly when I pulled my row boat Selkie Boy out of the water up onto the shiny wet, old brick bank of the Mississippi River. The day had been a lot nicer than the sleety days that filled the two weeks previous. The sun's last orange brightness was dimming beyond the towering rainbow shape of the St. Louis Arch. The sunset marked the end of my four-month long journey that began in the Headwaters State Park in southwestern Montana more than 2,300 river miles away up the Missouri river.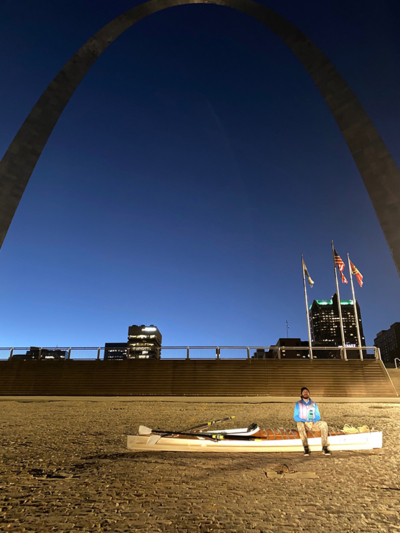 Symbolic of the city's role as gateway to the west, for me the arch has become a symbol of the Gate Out after completing the Road of Trials. My girlfriend was waiting for me there at the gate. She had come to pick me up with my truck, and so began the RETURN. It took a few days to get from St. Louis to home, but those were some of the most relaxing stays at highway hotels and motels I think I will ever experience. I felt I was allowing myself to rest for the first time in years. My goal was no longer looming – I'd done it! From building a boat from scratch to the actual solo rowing of the Missouri river – that thing I'd meant to do for years had been done. So for a short time I was in bliss, enveloped in clean white linens as well as in a sweet sense of accomplishment. No rowing start to finish day in and day out. Nothing to do except revel, and in the company of my lover.
Pulling into the gravel drive of our home I finished a very large loop that started right there four months prior. It seemed so long ago, when my girlfriend and I set out in my truck, with Selkie Boy strapped confidently to the roof rack. Then we drove the two days north and many miles through the Rockies to Three Forks, Montana, near where my lover dropped me off and I put in on the river. Now together we have returned via the east, the dry yellow plains. Selkie boy sat once again strapped to the roof rack, only this time with a story of scars that spoke of a long river descent with many landings on banks and boat ramps, plus a scum stain line colored by the many miles of the river.
We thought we'd live together when I got back. And we tried. Home was the place where my lover and I grew in intimacy, connection, and trust. Where we started a garden together and I made a composter to make dirt. Where the months leading up to the setting out on the river were spent preparing, compiling food, gear and resources together. Where I had put the finishing touches on Selkie Boy. This place was our basecamp for so many adventures.
As much as we wanted things to be perfect, it wasn't long before the problems surfaced again. Within days of being back at this Home, things seemed to come crashing down, a reckoning that had to happen. A process of disintegration followed. I was back in the practical world and having an in-person relationship again. Prior to the Gate In and while I was first on the water I felt that my girlfriend and I were able to stay connected and grow because we both had big projects we were doing. But before I left there was a question she asked me, and I couldn't answer it: "Do you want to be with me?" We couldn't seem to find solid ground to stand on. We had all the wonderful ingredients to make a life-long relationship except for stability. We both loved each other and wanted it to work so bad that perhaps denial of what wasn't so good took over.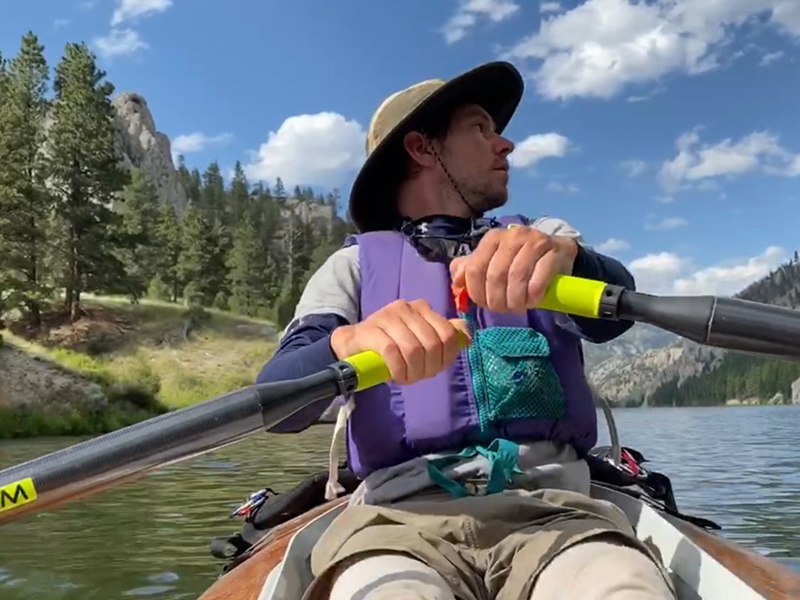 Something had happened out there on the water, sometime near the middle of the journey on the river. In that transformational Nigredo the vision of my life, of where I saw myself in the future, and what I wanted to do began to shift. It troubled me a lot. I couldn't see how I could do what I wanted in life and have a joyful, stable relationship with my girlfriend at the same time. These visions were at odds. I didn't want to believe that impulse that rose up in me, and now was just under the surface, that maybe it's better for our paths to diverge. Her question was still there: "Do you want to be with me?" My answer still: "I don't know!" A new question emerged: "Do you think you can make me happy?" My answer in my heart: "No." The answer I uttered aloud to her and wanted so badly to be true: "Yes."
So, there it was, that was the choice. I was going to try and make it work in spite of the known misalignments. I would overcome my mental obstacles, I would fully accept: "I'm in this relationship and this is my life and I'm choosing this; even though it feels like I'm going against a deep impulse inside." I practiced acceptance as if it were a prison sentence, as if this were my only option. This was to the great distress of my body. Just having done the journey that I had done I was already deficient and ungrounded. I developed insomnia, severe anxiety and depression. All of this was accompanied with body shaking along with the highest of emotional highs and the lowest emotional of lows.
Seeing all of this and suffering along with me, my lover asked me again: "Do you want to be with me?" I said "Let me think and meditate on this." That night I had a dream of two trees. Both trees were spruce or pine and both had been cut down and cleared of limbs. The difference, however, was that one was freshly cut, still green with bark intact. I knew it represented leaving the relationship at that time. The other one was desiccated and completely stripped. I knew that tree represented staying.
I stayed. I thought I just needed to lose my ego. I'd become enlightened and everything would work out. That isn't what happened. Things became so unbearable that somehow we both landed on the decision that I should leave. While burdened with exquisite pain and hoping in vain a miracle would happen we loaded up my truck with all my things, except Selkie Boy who had never made it off the roof of the truck. I drove away.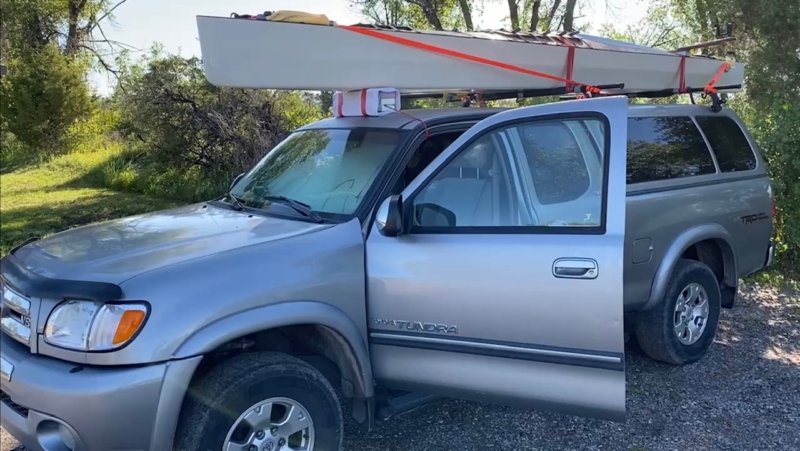 During the first hours of the drive I kept looking at my hands and the steering wheel. "Who's driving this anyway?" I thought, "I just need to turn around now and it can work out." So I took an exit and pulled off the road. I was a hair breadth away from turning back, and I think this was the first time I admitted to myself I was having a crisis. After several stops on the way, almost turning back, I got far enough that the gravity of where I was headed had a stronger pull and I was able to keep going.
Subsequent to that first departure after some time was reconnection, a lot of sorting and figuring out what happened, and more chaos ultimately resulting in a final separation. This is when Selkie Boy once again embarked upon the waters of the unknown, a new journey, a search for a new home.
It is my belief that my Rowing the Missouri Journey was important to my path in life. I believe the journey brought my lover and I together yet, ironically, was also part of the catalyst of our separation. The Return was not what I hoped for or expected: the pain beyond anything I ever experienced. While I wish I had a graceful Return, it became the most important part of my personal transformation. I learned how to come back down to earth and make better friends with life—to be here and feel everything, even when it is overwhelming. I'm still learning to be brave in speaking my truth when I think it will hurt someone, but, I know now, when it matters, I do have the inner strength.
Questions for Reflection:
An epic journey will most definitely change you; knowing you will not return the same as when you left, will you still journey?
In turbulent times, do you fight the currents of life in futility, or do you surrender to the moment and allow life to happen?
Are you truly yourself or are you trying to contort to fulfill expectations of others and even of yourself?
What loose ends and life circumstances are you leaving at home as you take your journey? These will ask for attention and resolution upon your return.
About Jon Wiley
Jon Wiley is enjoying living a simple life in South Dakota in the small community where he grew up and recently returned to live. He is a practicing Acupuncturist and is working towards the publication of his river journey in both documentary and book form. In the meantime he works to support friends and family in handyman/building projects. He also has taken up traditional archery as a pastime and a means to hunt.